Archive for February, 2018
Friday, February 23rd, 2018
If you're shopping for a new car here at Executive Volkswagen of North Haven, we know that you're looking for a few different things. You want reliability, a fun driving experience, and the latest tech. Fortunately, the new Volkswagen models on our lot offer all of the technology you could possibly want, along with some features you didn't even know you needed.
We know that one thing that most drivers are looking for these days are connectivity features. Whether you're behind the wheel of the 2018 Volkswagen Atlas or you choose to drive one of our smaller models, you'll find that features like Apple CarPlay™ and Android Auto™ are available in many of them. Want to use your favorite apps? Did you just make a killer road trip playlist? Sync up with your smartphone and easily access what you need through your Volkswagen car's advanced infotainment system.
Many of our cars also offer advanced safety features. Adaptive Cruise Control can keep you a safe distance away from other cars on the highway, while Pedestrian Monitoring can actually use radar to detect a pedestrian wandering into the path of your vehicle before you do. Features like these can help you stay safer and more aware, no matter where the road takes you.
Of course, we also have to mention the Volkswagen Digital Cockpit. This 12.3-inch digital display revolutionizes the instrument cluster and shows you the information you need in high resolution. It can also save up to four different driver profiles. It's one more piece of unique tech that helps the Volkswagen models on our lot stand out.
So visit our Volkswagen dealership near New Haven, CT today, where an expert Volkswagen dealer is ready to answer all of your questions. Whether you want to know about a specific model or a brand new feature, we'll give you all the information you need. We hope to see you soon for a test drive!
Tuesday, February 13th, 2018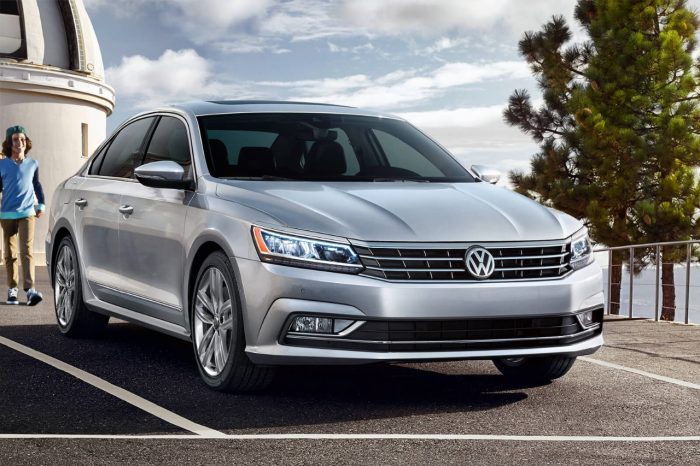 If you've been holding off on leasing that new Volkswagen model you've had your eye on, now is a great time to visit us here at Executive Volkswagen of North Haven. We're celebrating our Presidents' Day Event through the end of the month, with new lease deals for drivers who qualify. Whether you're shopping for a stylish sedan or a dependable SUV, we think you'll find something to love during this event.
One model that you'll find on our lot right now is the 2018 Volkswagen Passat. The new Volkswagen Passat S can be leased for $215 per month for 36 months by qualified drivers. This midsize car is perfect for growing families or anyone who just wants a fuel-efficient way of getting from point A to point B. It's available with Apple CarPlay™, a Rear View Camera, and other technology that you'll appreciate. If you're looking for a smaller car, give the 2018 Volkswagen Jetta S a closer look. This stylish model offers a fun driving experience and lets you use your favorite smartphone apps. Lease it for just $189 per month for 36 months.
Of course, SUVs are popular right now. We've got some great options to choose from during our Presidents Day Event. The 2018 Volkswagen Tiguan has been completely redesigned. This new family car is anything but boring, and you can lease the Volkswagen Tiguan S for $259 per month for 36 months. The 2018 Volkswagen Atlas S 4MOTION® is also available. It offers the tech you want and the cargo space you need. Select 2017 models are also on sale, so feel free to ask our Volkswagen dealers about our other offers and the financing process.
The best news about these lease offers is that you don't have to put any money down if you qualify! So visit our Volkswagen dealership near Hamden, CT and lease a new model today. We'll make it easy to find a car that suits your budget and driving needs. Find the perfect SUV or car at our dealership today!
Thursday, February 8th, 2018
Here at Executive Volkswagen of North Haven, we're always excited to learn more about a new Volkswagen vehicle. One model that's attracted some attention recently is the Volkswagen I.D. Hatchback. This model represents the start of a new era for Volkswagen cars, and now we've learned that it will go into production sooner rather than later.
The Volkswagen I.D. Hatchback will be manufactured starting in November 2019. The will be the first vehicle in an family of new I.D. models. You can expect to see a crossover and a new version of the classic Volkswagen bus as well, but all of these models will share a few things despite their different body styles. First, they'll all share a unique futuristic style. These new Volkswagen models wouldn't look out of place in a science fiction movie. Second, each one will offer the latest green car tech.
This hatchback will be completely electric. When it was first shown as a concept at the Paris Motor Show back in 2016, it was equipped with an electric motor that could put out 168 horsepower. Its battery pack offered a range of around 370 miles. So the production version of this concept could help alleviate range anxiety for many drivers, while offering the fun Volkswagen driving experience you know and love. In addition to the hatchback, crossover, and bus, we could end up seeing some other Volkswagen I.D. models soon. This is a new era for the Volkswagen brand and we can't wait to see what other unique vehicles are in the works!
So when you're looking for an innovative vehicle that uses the latest and greatest tech, visit our Volkswagen dealership near Hamden, CT. Our nearby Volkswagen dealers can answer questions about upcoming models and the newest features. We hope to see you soon for a test drive!